DONATA AMBASSADOR PROGRAM
ATTENTION AMBASSADORS: YOUR DISCOUNT CODE WILL NOT APPLY TOWARDS ANY LIMITED RELEASE DROPS!
Please email marketing@donata.co for additional information.  
We are so excited you are interested in joining the Donata Brand Ambassador program!! We can't wait to see you share how you practice wellness for your Mind, Body, Skin, and Hair while educating your community members on how to do the same. We are looking for Tribe members who believe in authenticity and who strive for a healthier lifestyle as we are all on this journey together. Click the link below to get started on your application.
Please note: You are required to create a Buzzbassador account to apply but don't let that stop you from getting involved!! You'll need that account if you are selected to look back on how much you have earned in commissions. Buzzbassador will never spam your inbox and there are no fees to apply.
Already have an account? Login here.
STEP 1:


ACCOUNT
Create an account with Buzzbassador. You will be prompted to do this when you click the link.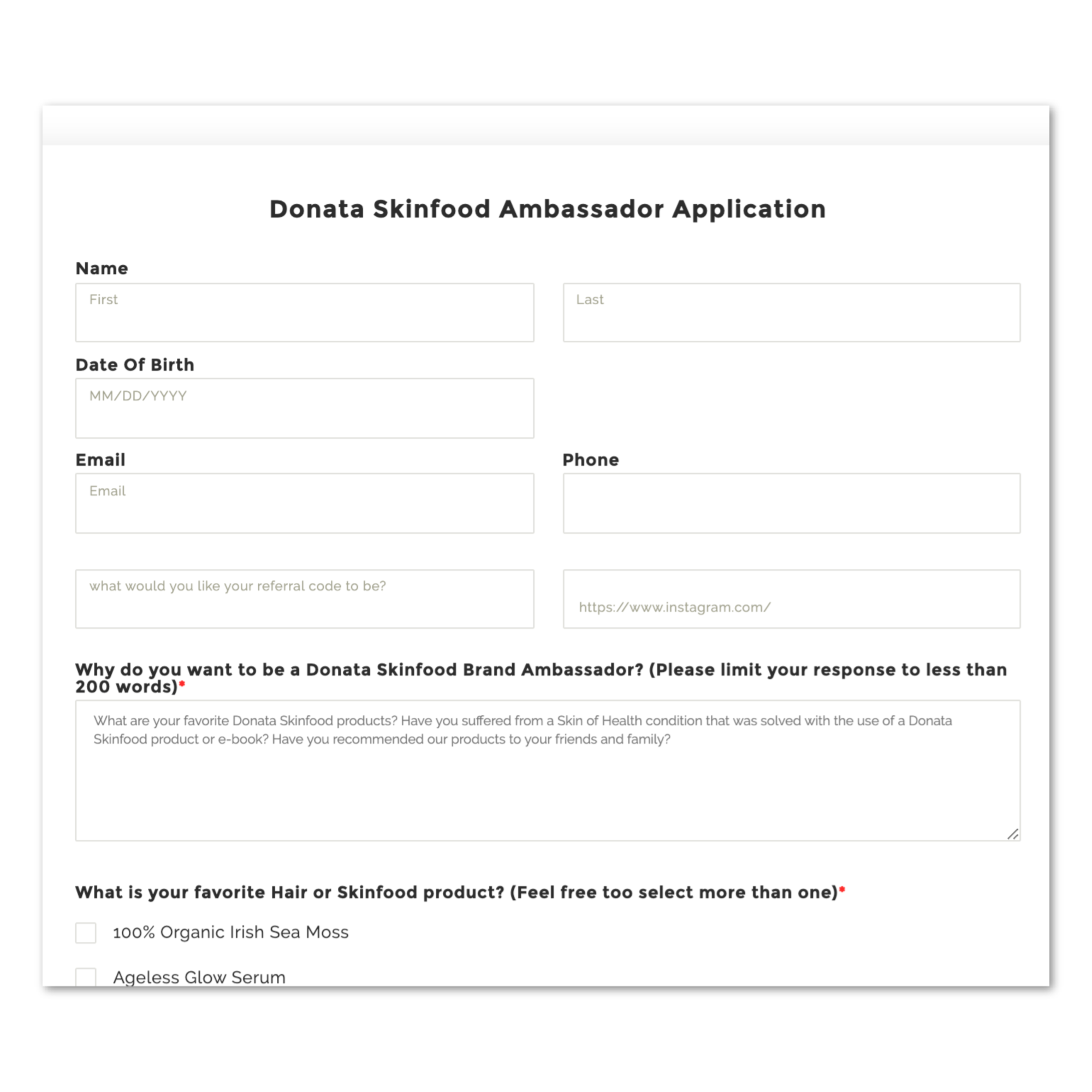 STEP 2:


APPLY
Complete your application. Be as detailed in your responses, we can't wait to learn more about you.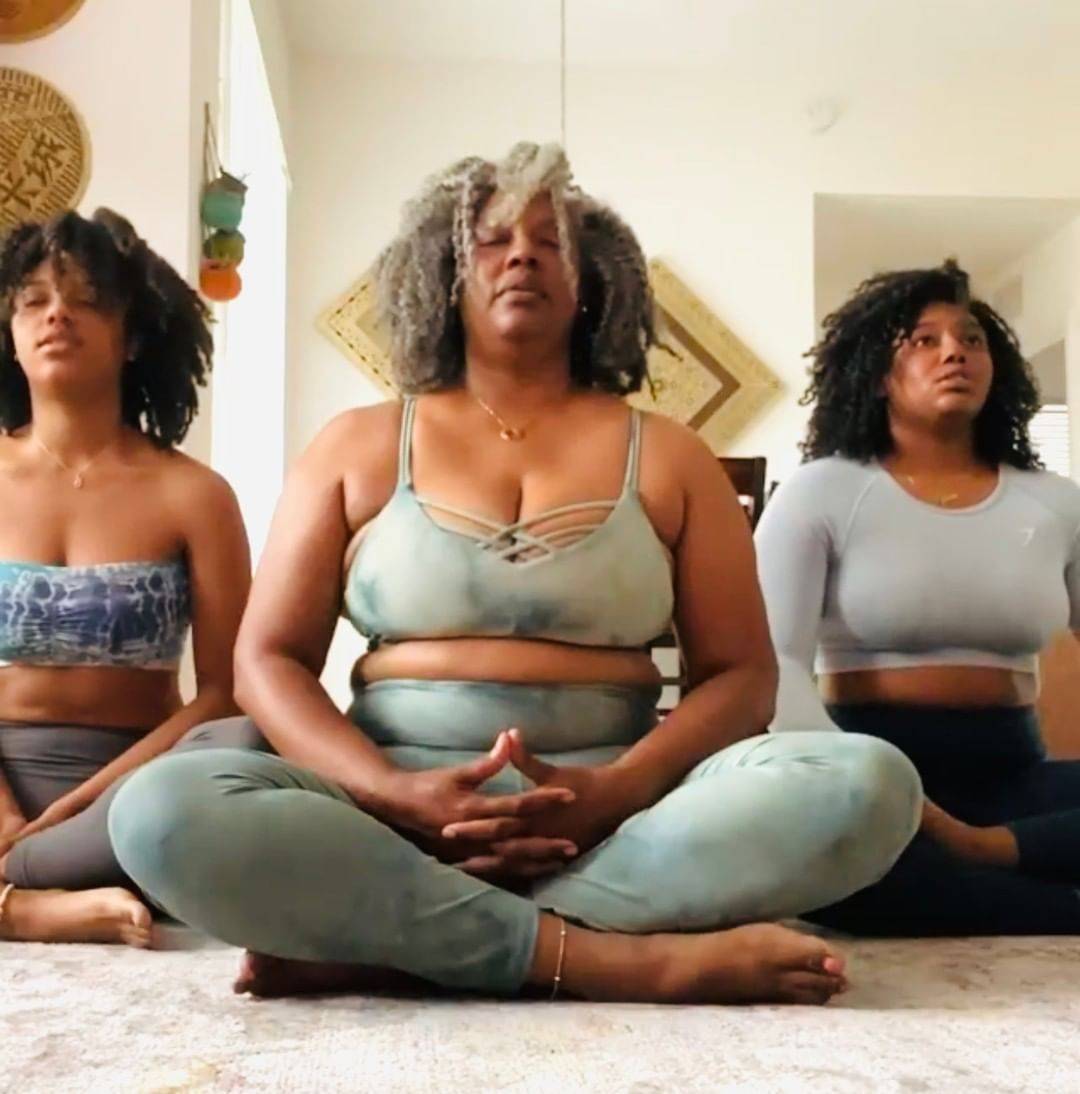 STEP 3:


WAIT
Please allow up to 1 week for our review. Your acceptance status will be delivered to you via email.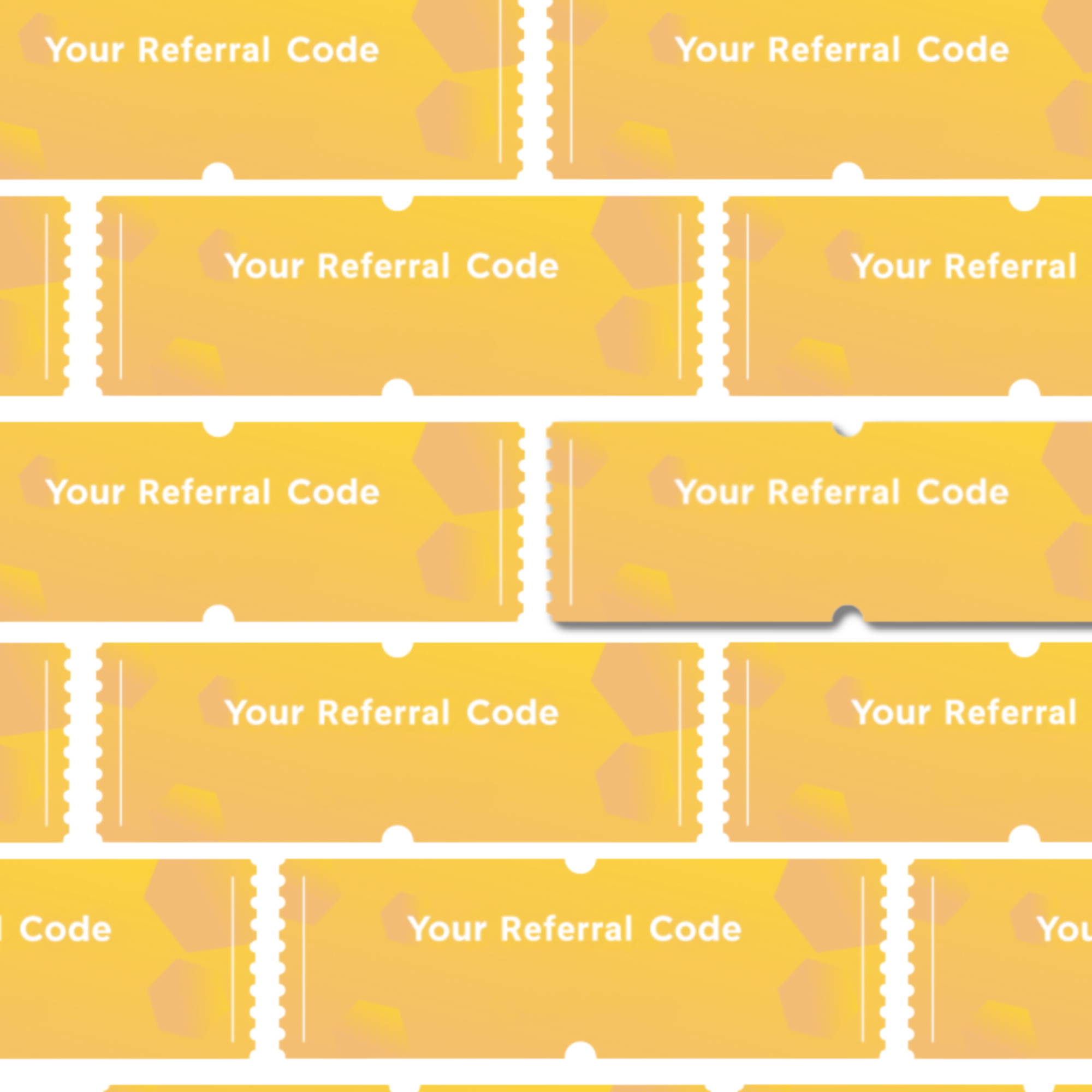 STEP 4:


REFER
You now have your codes! Start letting your friends and family know about your Mind, Body, Skin, and Hair journey.
IS ON A WELLNESS JOURNEY (OR TRYING TO BE).
HAS EXPERIENCED PROGRESS USING SKIN AND HAIRFOOD.
BELIEVES IN INTERNAL WELLNESS.
DOESN'T PLAY WHEN IT COMES TO ALL NATURAL SKINCARE.
IS EXCITED ABOUT SHARING THE BRAND WITH OTHERS.
BELIEVES IN FEMALE OWNED BUSINESSES.
YOU RECEIVE


10% OFF
On all purchases.
THEY RECEIVE




10% OFF
When they use your code.
YOU GET




$3 PER ORDER
That's $3 each referral purchase.
Do I need to pay to create a Buzzbassador account?
No. There are no chargers for applying to our Ambassador program.
Is there a fee for canceling my Ambassador account?
No. There are no charges with setting up your account or cancelling your account. Buzzbassador will also not spam you with emails.
 
Why do I need to create an account with Buzzbassador?
Creating an account with Buzzbassador is the only way you will be able to track how much you are making and instantly check if your messaging is resulting in purchases.
 
We want to be as transparent as possible so we give you full insights on your platform but that is only possible if you create an account.
I forgot my Ambassador Login information, what can I do?
Contact Buzzbassador support. Unfortunately Donata Skinfood is not able to process or assist with password recovery.
 
What should I do when I set up my profile?
(1) Make sure you remember this account information, it's how you will be able to check on your earnings.
 
(2) Use the same email you have set up with Paypal, its how you'll withdraw your earnings and see how you're performing.
 
I filled out the application. What do I do next?

Please allow up to 3 months to review your application. Donata Skinfood is accepting Ambassadors on a quarterly and rolling basis. Email marketing@donata.co to check in on the status of your application.
 
Are you still accepting applications?
Yes. Donata Skinfood is always accepting applicants. We will be accepting Ambassadors on a quarterly and rolling basis. Please email marketing@donata.co to check in on the status of your application.
How do I make sure I become an Ambassador?
Be honest on your application! We genuinely want to learn more about you and why you think you are a right fit. We are looking for AUTHENTIC Tribe Members who want to show up for Donata Skinfood!
I made a mistake on my application and want to correct it.
Email us! We can make that change for you. Please include your full name and the error in your application. We all make mistakes!!
 
I want to change my Ambassador Referral code.
Email us! We can make that change for you. Please include your full name and what you would like the code to be changed to
 
What is expected of me as an Ambassador?

Post relevant and genuine content as much as you want to! If you love Donata's products you must have learned how authentic she is in her messaging to her customers when she shares her Skin and Hair tips. We encourage you to do the same while telling your personal Donata Skinfood product story!!
 
Our mutual goal is to help as many people as possible start their mind, body, skin, and hair journey.

Please note: Donata Skinfood Ambassadors will be audited on a quarterly basis to assess interest in the program based on mentions on Social Media and total referral purchases. To keep it simple - if you show up, and show up authentically, your seat at the table is secure.
What do I receive for being an Ambassador?

10% off on all of your purchases
10% code for your friends and family to get 10% off
$3 commission on every product purchased with your code. Think about it - $3 gained 5 times is equal to one "free" blended soap ;). You will reive your commission earnings on the 1st of every month.
Where can I share my Discount and Referral Code?

Personal Discount Code: Don't share this with anyone! You won't gain any commission from giving out this code.

Referral Code: Feel free to share this anywhere! We have actually seen the most success personally DMing the code to people who ask you about Donata. This code can be shared on Instagram, Instagram stories, Youtube, Facebook, Tumblr, Twitter, or any other platform you use. Be smart though! Appearing sales driven and less message driven will get you removed from the program.
How do I get the most value from my Referral Code? 

The best way to get the most exposure from your Referral code is by posting relevant content to your audience.

 

We have selected you to be an Ambassador because we know our products have made a huge difference in your Skin and Hair and we want other people in the community to discover what works for them.

 

Sharing videos talking about/using your products on Instagram or your Stories will help drive traffic to your code AND you might be selected for your video to be posted on our feed.

 
How long are the Discount and Referral Code valid for? 

Your personal Discount Code and the Referral Code will be available to you for as long as you are an Ambassador. If you ever leave the program or are removed from the program, the discount code will also be terminated.

 
Please Note: Your personal discount code cannot be used towards limited release drops and your 10% off discount and referral code discount cannot be combined with any other discounts at any time.
How do I accept my commission payment?

The 1st of every month! If you have any questions about your Ambassador commission earnings, please email marketing@donata.co

 
Could I get removed from the program?
Yes you could. At Donata Skinfood, we believe in organically and authentically telling your personal Mind, Body, Skin, and Hair journey. We do NOT believe in pushing products or codes on people. If you are selected to become a Donata Ambassador, we expect you to carry out the same values to your communities that we have embodied from the start of our business.
Not pushy: Sharing your personal Hair or Skinfood journey and asking people to DM you for a reference link or include the link in your caption. Pushy: Commenting across several posts spamming profiles with your Referral Code. Do not do this!! You will be removed.
You're seat in the program is safe if you:
(1) SHOW UP! This is key.
(2) Earn at least 3 referral earnings per month