Skinsnack Soap
Regular price
Sale price
$20.00 USD
Unit price
per
Sale
Sold out
Share
Looking to experience limited release Skinfoods for a fraction of the cost? Introducing, Skinsnacks. 

Our Dry Skin Skinsnack Pack Contains a variety of pieces from (not all will be included):

Earth Soap
Heiwa Soap
Spinach Soap
Blended to the Max Soap
Butterfly Rose Soap
Our Combination/Oily Skinsnack Pack Contains a variety of pieces from (not all will be included):
Pine Tar Soap
Turmeric Soap
Earth Soap
Butterfly Rose Soap

Our 'I Just Want Soap' Skinsnack Pack Contains several pieces of:
A mystery combination of Skinfood Soaps
'Imperfect Soaps' 
P.S. this is the most amount of soap for the cheapest price! 
To learn more about Skinfood Soaps: 
***sizes and colors WILL vary***
8oz size valued at $30 for $20
16oz size valued at $60 for $45
Suitable For

All skin types! Skinsnacks are an opportunity to try all of our existing line and limited releases for a fraction of the cost.

Skinsnacks make great gifts for the Skinfoodie in your life!
How To Use

Step 1: Wash your face or impacted areas using our Skinsnack Soap

Step 2: Pat dry your skin, leaving it slightly damp

Step 3: Apply a thin layer of Scar Butter or Oatmeal Salve to the entire impacted area. Never allow water or dirty fingers in our Skinfood moisturizer container as there are no preservatives. Always use wooden spatula or spoon included to scoop out product.
Ingredients

Please visit each product page to learn more about their ingredients.

100% Vegan · 100% Gluten-free · Organic Ingredients
How To Store

Keep at room temperature and store soap on the Wooden Soap Dish to help ensure your soap lasts and is clear of bacteria
Size Guide

Skinsnack Soaps are available in 8oz or 16oz; please note: Skinsnacks are several pre-cut facial and pre-cut bars.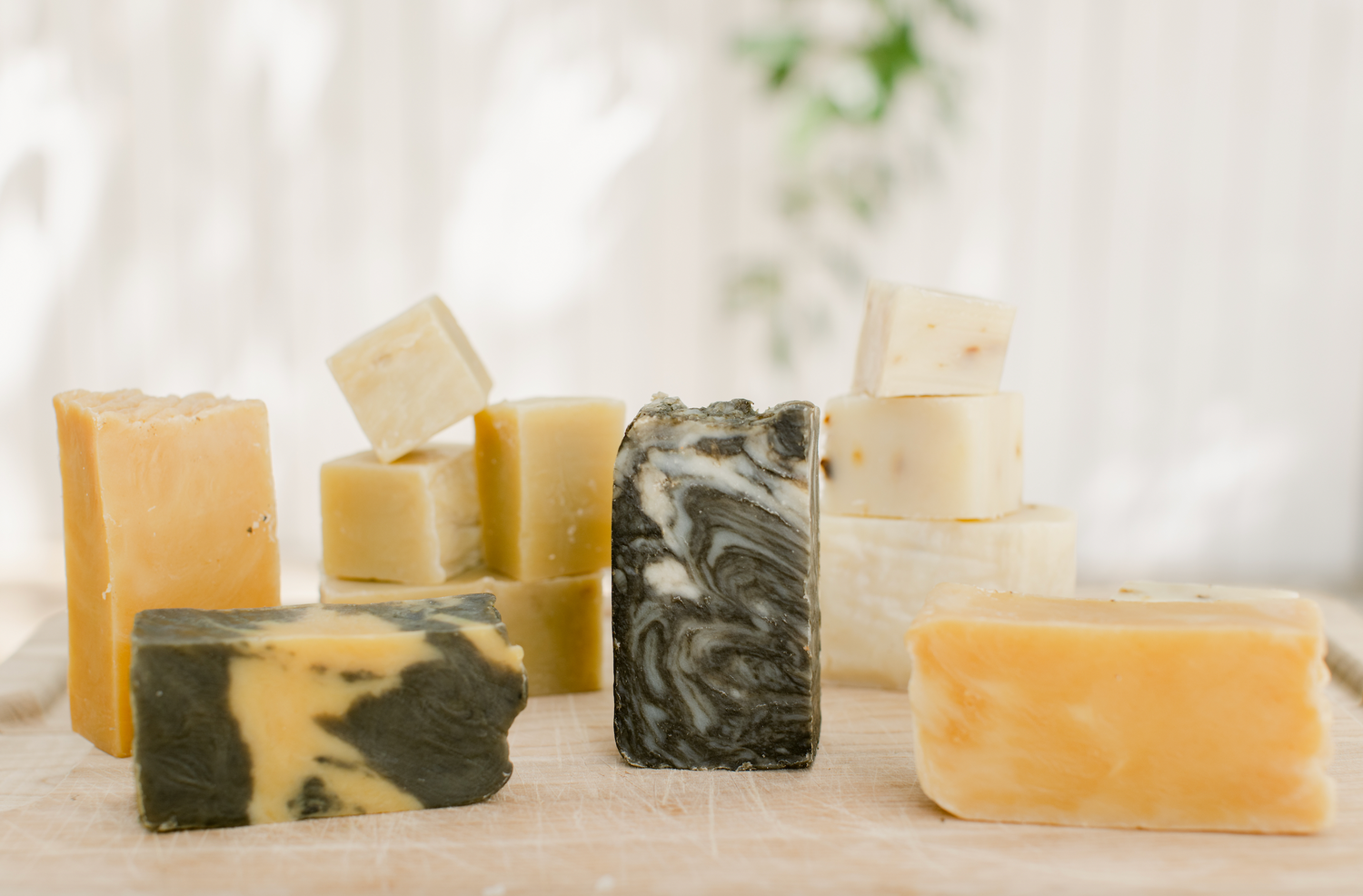 Not sure which products are best for you?
Take the 5 minute quiz to find which vegan Hair and Skinfood products are best for your mind, body, skin, and hair.
Find Your Skinfood Routine
Our Ingredients

Because my ingredients are exclusively found in nature, your Hair or Skinfood hue may slightly vary.

Shelf Life: 9-12 Months

Storage: Dry and cool place

Need Help

Just as people's diets are customized for their particular needs and health goals, I customize a regimen to feed your skin. Take our quiz or DM me for a consultation.

Our Quiz

Results

Wait for the desired effects to show, healing takes time. Allow at least four weeks to see how your skin responds before introducing new products.

Inside Out

Donata's journey is just as much internal as it is external, what you put in your body is just as important as what you put on it.

Healthy, glowing skin happens from the inside out.